Ugh. I've had the kind of day - and the kind of week - that leaves the gas tank on empty. So, short and sweet this week.
Nerd Wars Dissertation
I've finished the spinning for my Nerd Wars dissertation, and went on to the swatch. I got enough done to demonstrate what I have in mind for the "feather" part of it. It took a few tries to get it the way I wanted, and it's a slow construction process anyway, but I'm pretty happy with it. (reminder: I'm making a shawl inspired by angel (feathers) and demons (webs)).
Bleeding Hearts Trim
A week from today, I leave for Origins, a gaming convention in Columbus, Ohio. While there, I'll be participating in a LARP (live action role playing game) in which the characters are in an asylum in the 1840s. I have a whole plan for my character, so I'll be making the costume over the weekend - specifically, I'll be making this: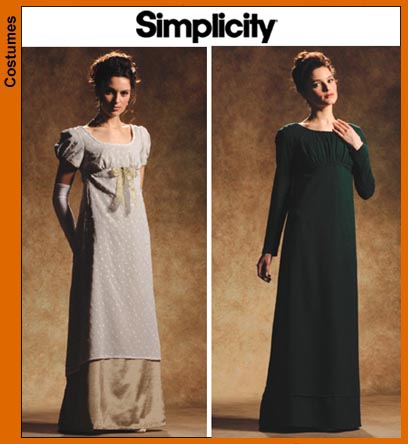 The one on the right. I've actually already made the one on the left, and I wore it for Halloween in 2006, along with my room mate we were Eleanor and Maryanne Dashwood, from Sense and Sensibility.
I'm on the right in this one. I <3 this costume, and still have it, but it's too nice to wear for the asylum game, so I'll be making it again out of cheap materials that I have around in the house. However, there was a Nerd Wars challenge that I wanted to make lace for, and I thought it would be nice to make trim for my dress. I had some thin yarn around that my mom bought literally before I was born (it's from sometime in the 70s as far as either of us know...though she might be misremembering...) and I have just about the right amount to make the 12 yards that I'll need to do the sleeves, neckline, and base of the skirt. I've made somewhere around 7 or 8 yards so far.
Hope to finish soon.
Don't miss everyone elses awesome work over on
Tamis Ami and Other Crochet
blog!